The InventoryBase Workflow – Milestones, audit trails and notifications
Every inspection created with InventoryBase travels through a series of workflow stages to produce a final property report that can be shared with recipients.
The workflow ensures you and your clients can track the progress of inspections throughout the report lifecycle. Each milestone is timestamped and a detailed audit trail is created and recorded against every property in your InventoryBase system.
The basic, standard workflow consists of the following stages:

A "Clerk" is the person (inventory clerk, property manager, inspector, assessor) assigned to complete the report.
You may see more stages in the workflow based on your account settings.
The full list of workflow stages are as follows:
PENDING
Inspection has been added to the system with a proposed time, but has not yet been assigned to a clerk or confirmed.
ASSIGNED
Inspection has been scheduled and/or assigned to the clerk. It is now accessible for you or the assigned clerk to download offline to the mobile app. The clerk or manager may need to accept the job to progress to this stage.
ACTIVE
Inspection has been started and is either in progress on the clerk's app or is still being edited on or offline. (Note: When a report is started on the app it is offline, so may not show Active until the report is uploaded)
PROCESSING
Optional stage. If a typist is assigned to transcribe uploaded audio dictations or imported reports then the clerk will see 'Submit for Processing', allowing the typist to have access.
REVIEW
Optional stage. Review completed reports before sending to recipients. If a typist is assigned they will see 'Submit for Review' once they complete the transcription. At this time, it will either go to the clerk to review, or straight to management, depending on your settings.
COMPLETE
The report write up is finished and the final report is accessible online to either be shared direct from the system or as a downloadable PDF. The report can be commented on (if enabled) and signed online. It can also be reopened for further amendments. We'll automatically send the reports to clients and signees unless you opt to share it manually.
CLOSED
The report is finalised, locked and archived. No further changes can be made and signatures cannot be removed or added. The report will always be accessible via the property page to clients and visible to any recipients via the link.
CANCELLED
The Inspection was cancelled and no report was created. The system will prompt you add a reason for the cancellation which is then captured as part of the audit trail.
Each workflow stage will create and show the timestamp at which the milestone was reached. We record all data in this way to provide you with a detailed audit trail and valuable insight into how quickly you're turning around reports, but also as evidence for any disputes or queries.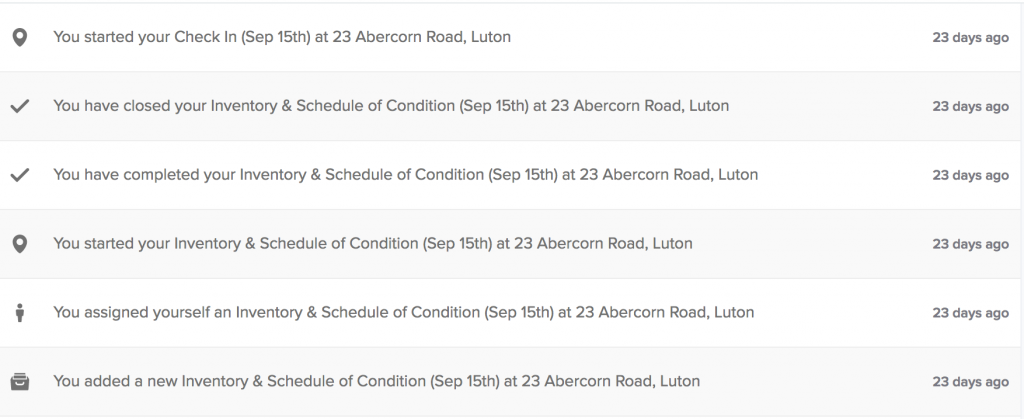 Continue Reading