Features you can pick and choose from.
InventoryBase packs a ton of value to increase productivity, reduce admin and make you more effective. Some of the features listed below are a core part of the InventoryBase platform, most features can be turned on and off as required.
Multi-User Access from Anywhere
Access the InventoryBase Dashboard from any location on any device with a browser, including PC, Mac, Smartphone or Tablet.
Grant your clients or landlords an account to accept online bookings, schedule appointments in advance and download completed reports.
Work Solo or in a Team, share and assign appointments between your clerks and inspectors.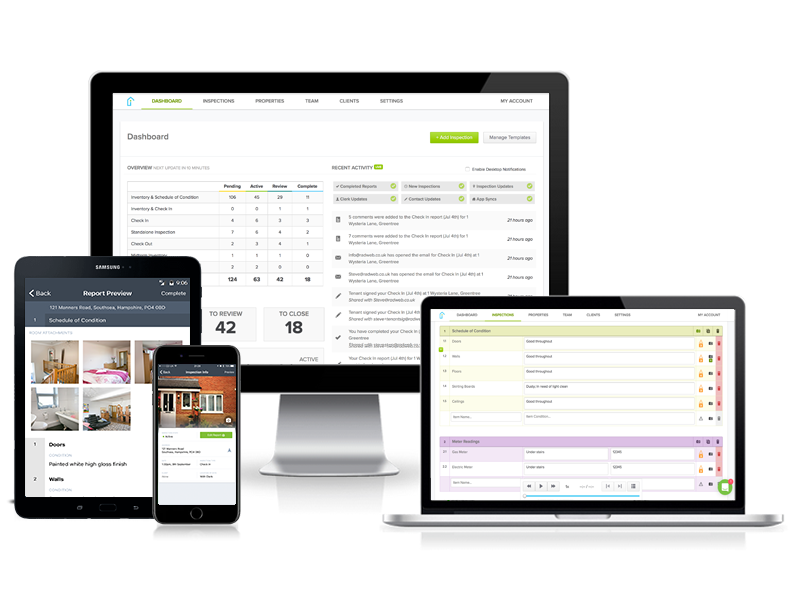 Portable and Offline Reporting
Download the InventoryBase mobile app for iOS or Android, and complete reports on-site without the need for an Internet connection.
InventoryBase gives you the tools to produce reports faster, in a range of formats, and have reports completed, signed and uploaded for clients or tenants the moment you leave the property.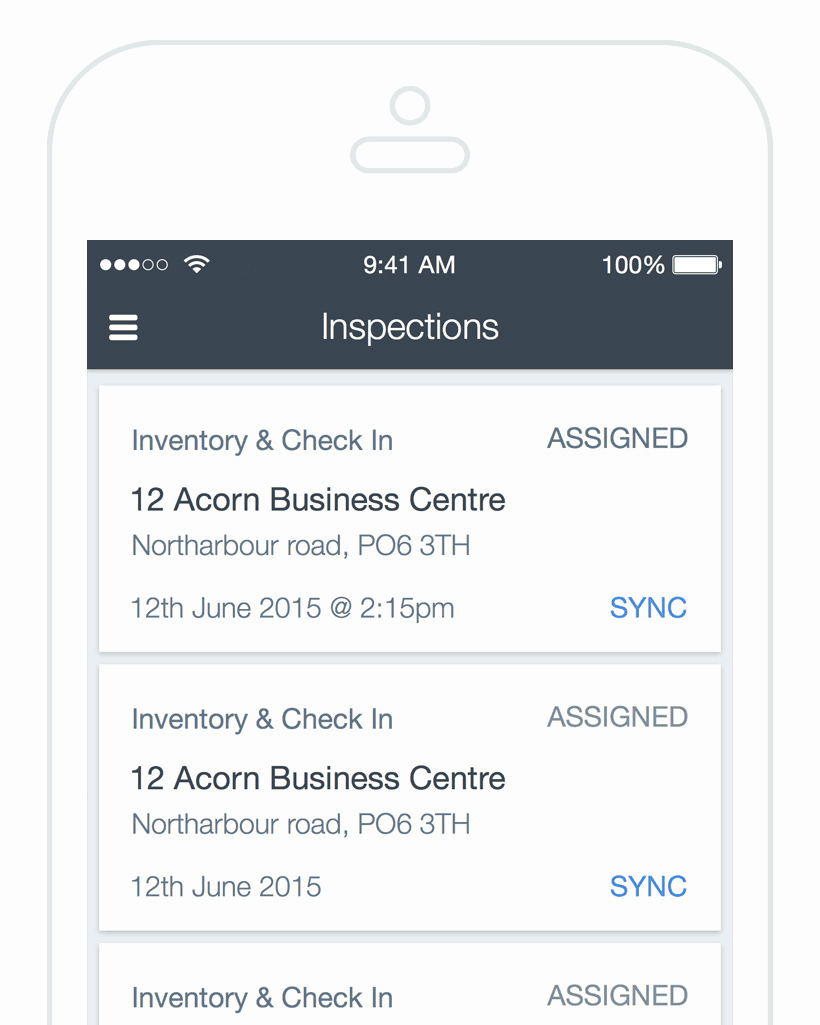 Built-in Audio Transcription
Record voice dictations using the InventoryBase App to save time typing up reports, audio can be uploaded for transcription online using our slick report editing and audio-playback tools.
Want your reports transcribed for you? Our Transcription Team will deliver your reports back fully typed from 35p per minute of recorded audio.
Want to use your own typists? No problem. Add typists to your Team and assign them reports to process as soon as you've uploaded your files.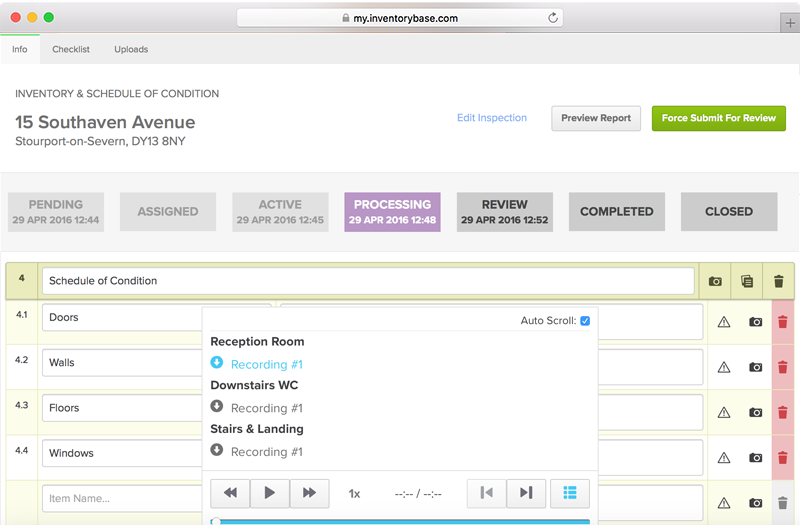 Customisable Dictionary
Add your commonly used descriptions and phrases to your dictionary, readily pre-filled with hundreds of common industry terms.
InventoryBase will suggest as you type, or recognise shortcuts and abbreviations to speed up text entry on-site, without getting in your way when writing freestyle.
Have multiple clerks/inspectors? They'll all get the same shared Dictionary to enable consistency across your organisation.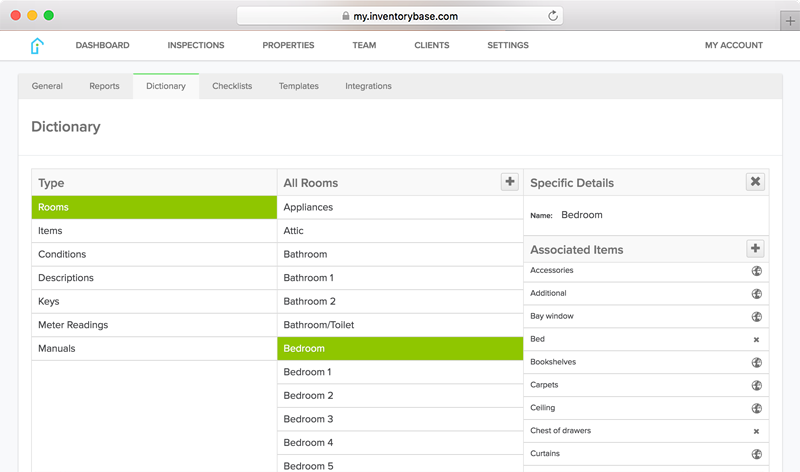 Create-Your-Own Templates
Finish reports with the least amount of repetition and cut time spent in the field in half.
Create an unlimited variety of templates to suit various types of reports, allowing clerks and inspectors to dive straight into capturing observations and images at the property.
InventoryBase comes with sample templates and a wide range of data input formats, from detailed Item-Description-Condition text entry to Star Ratings to Quick-tap Checklists, enabling faster inspections of all kinds or highly detailed inventory reports.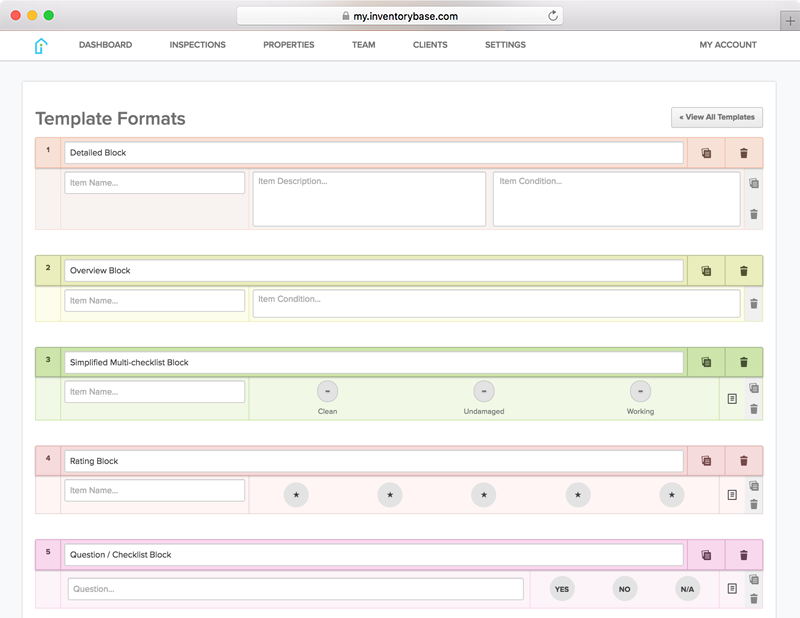 Free Template Library
It's hard to keep up with industry best practices and new legislation when you're working in and on your business, so our new Template Library is packed with a range of useful and common sense installable templates across various categories: Residential, Commercial, Health & Safety, Block Management and Hospitality/Short Term Rental. 
Download our templates and customise them as you see fit. Also included is our Fitness For Human Habitation assessment… plus helpful guidance on a number of templates offered within the library.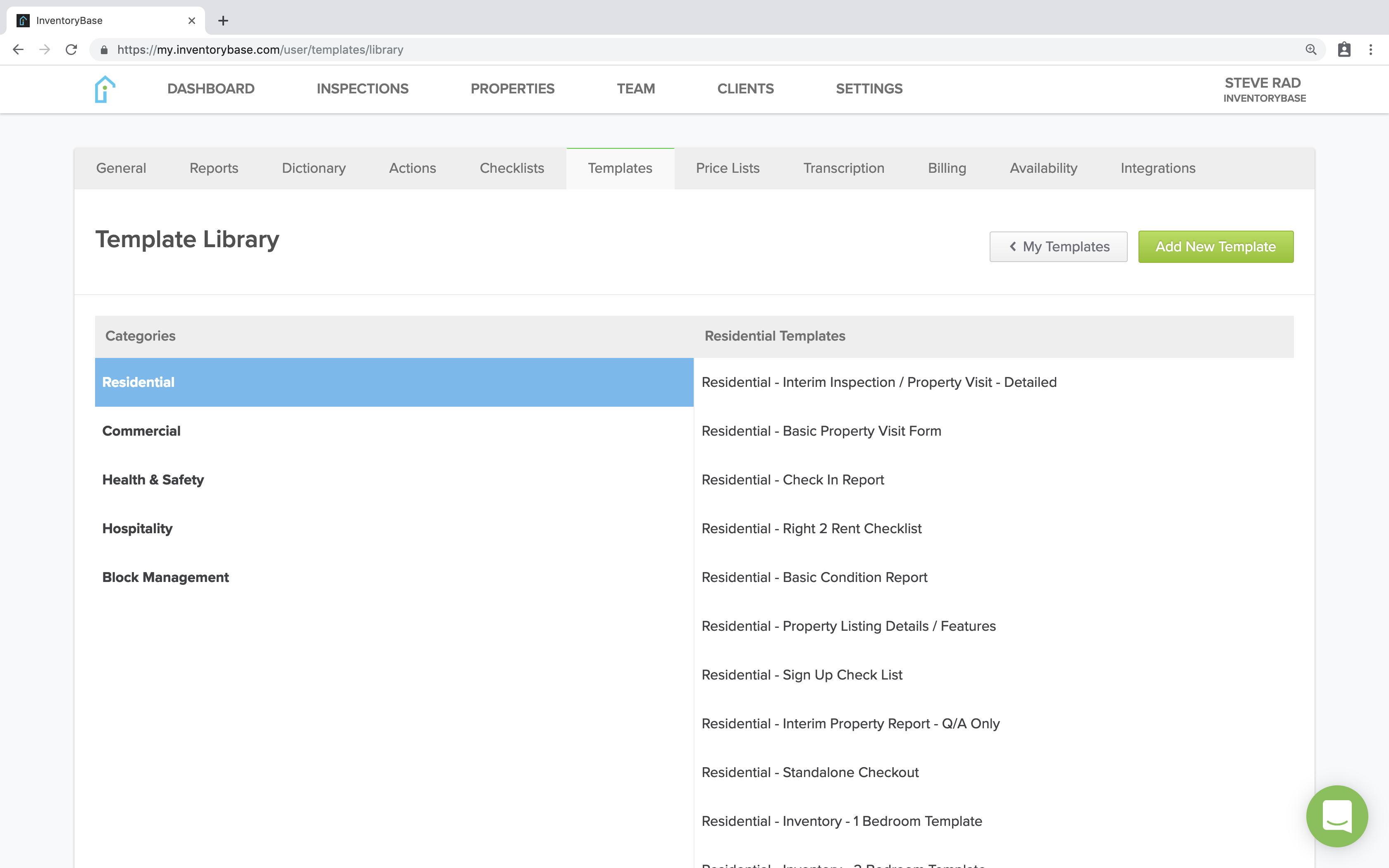 Interactive Web Reports
Grant clients and tenants access to view reports online instantly the moment they're marked complete, reports can be automatically or manually shared via a private URL, with options to print or save as PDF.
Reports are automatically generated and numbered, with photos referenced and optional notes, disclaimers, declaration and terms appended.
Provide landlords and tenants the ability to add their own comments and supporting evidence to manage potential disputes.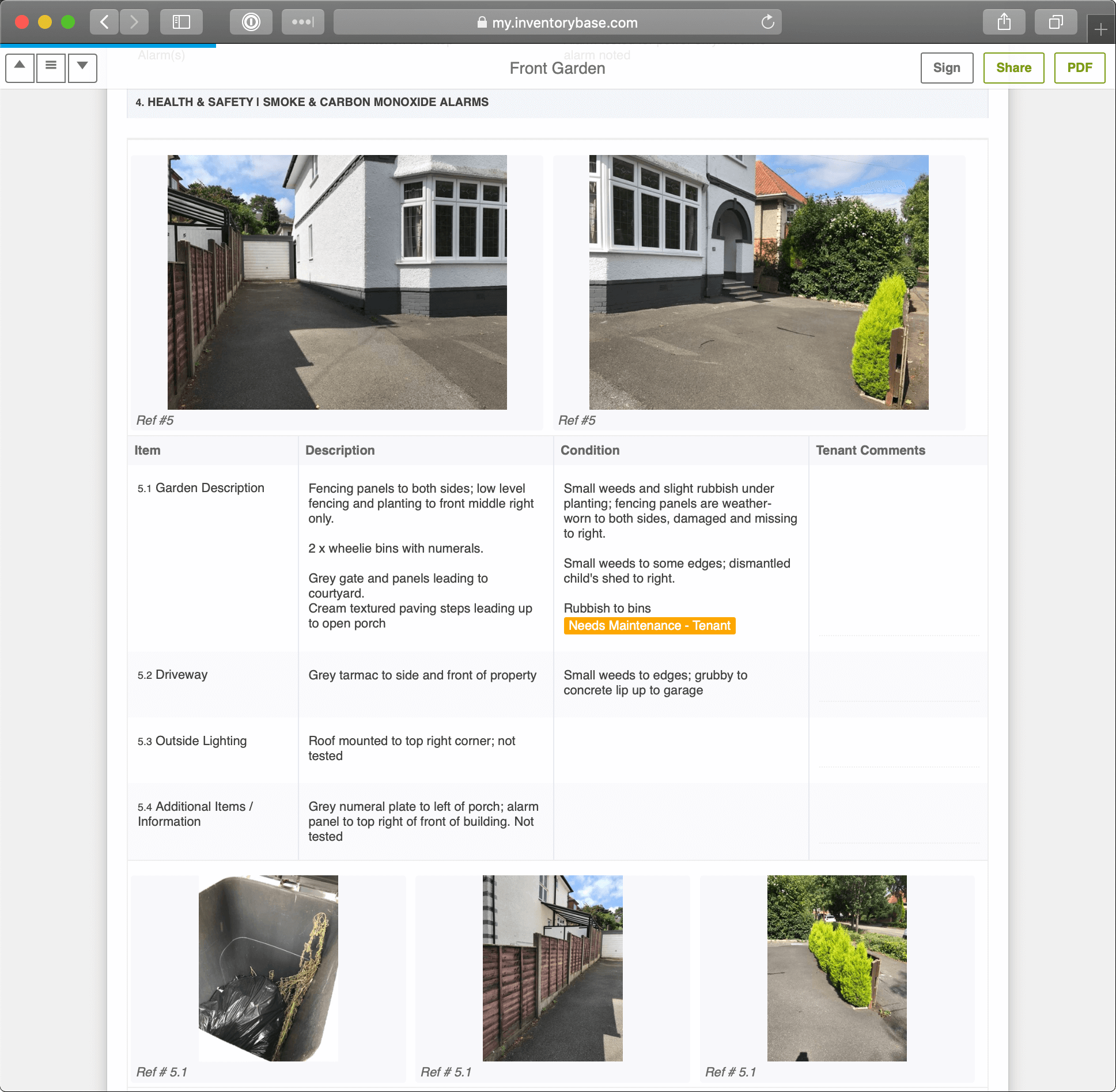 Digital Signatures
Capture agent, landlord or tenant signatures on the App right at the property, or remotely via the Interactive Web Report, using touch, mouse or Stylus pen.
Save PDF reports inclusive with digital signatures and comments.
Eliminate the need to print paper-based reports for good.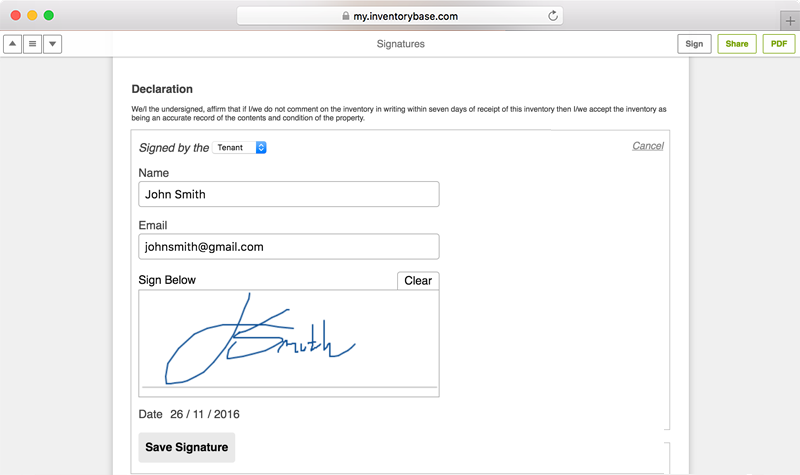 Lifecycle Report History
Store inventory details on the first visit, track revisions over time and compare and overwrite original reports in the field quickly and easily.
InventoryBase stores all report history throughout every tenancy lifecycle, reducing the potential for lost tenancy deposit claims.
Reduce property maintenance by identifying and flagging up issues in-the-field, monitor fair wear and tear, and keep an eye on the health of all your managed properties far simpler than ever before.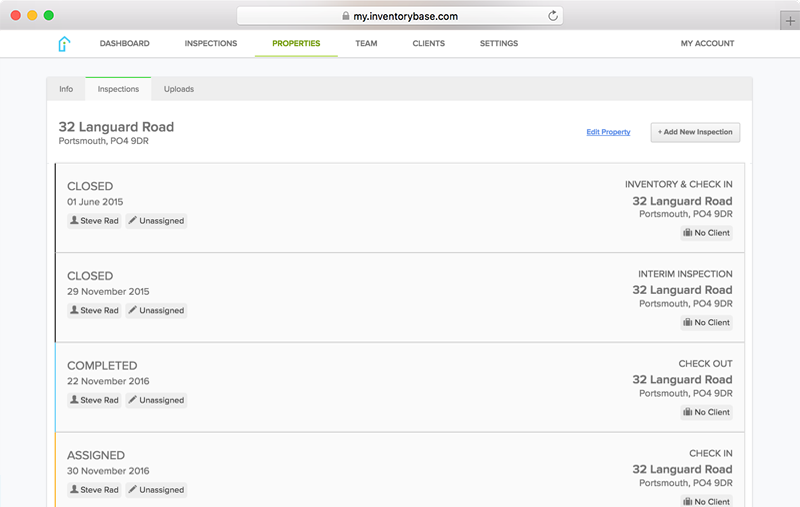 Detailed Audit Trails
Monitor activity across your organisation, in real-time, with instant activity notifications, desktop alerts and detailed audit trails for every single property.
Track your team and view reports the moment they are marked complete.
Get reports to the right people faster than even before. Track outbound emails with read receipts to know when reports have been successfully received and opened, adding even more evidence should disputes arise.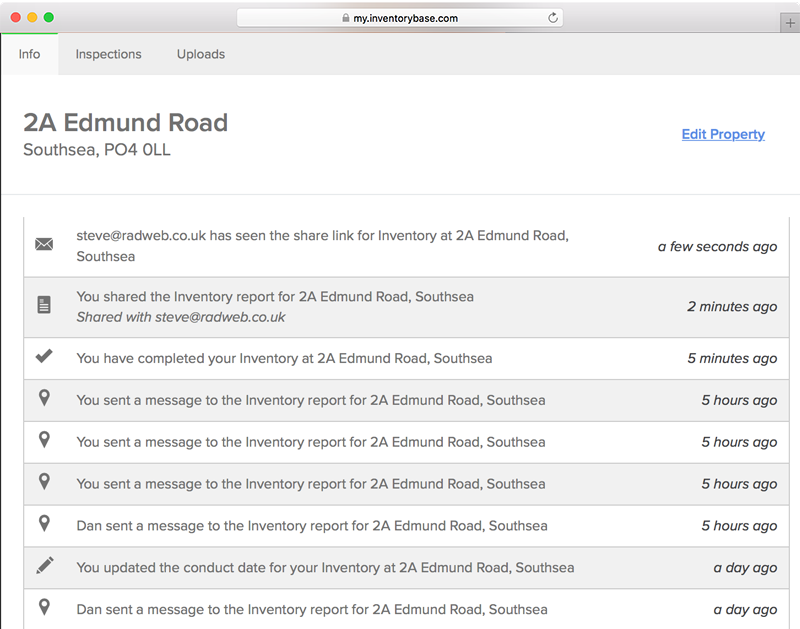 Custom Pricelists and Invoicing
Create dynamic pricelists with specific settings to automatically allocate pricing during the bookings process, according to report type and property size.
Override pricing for specific clients and optionally generate invoices when reports are completed.
Receive weekly exports of all your completed appointments or link your account to supported third-party Accounting products like Xero or Clearbooks for even more automated billing.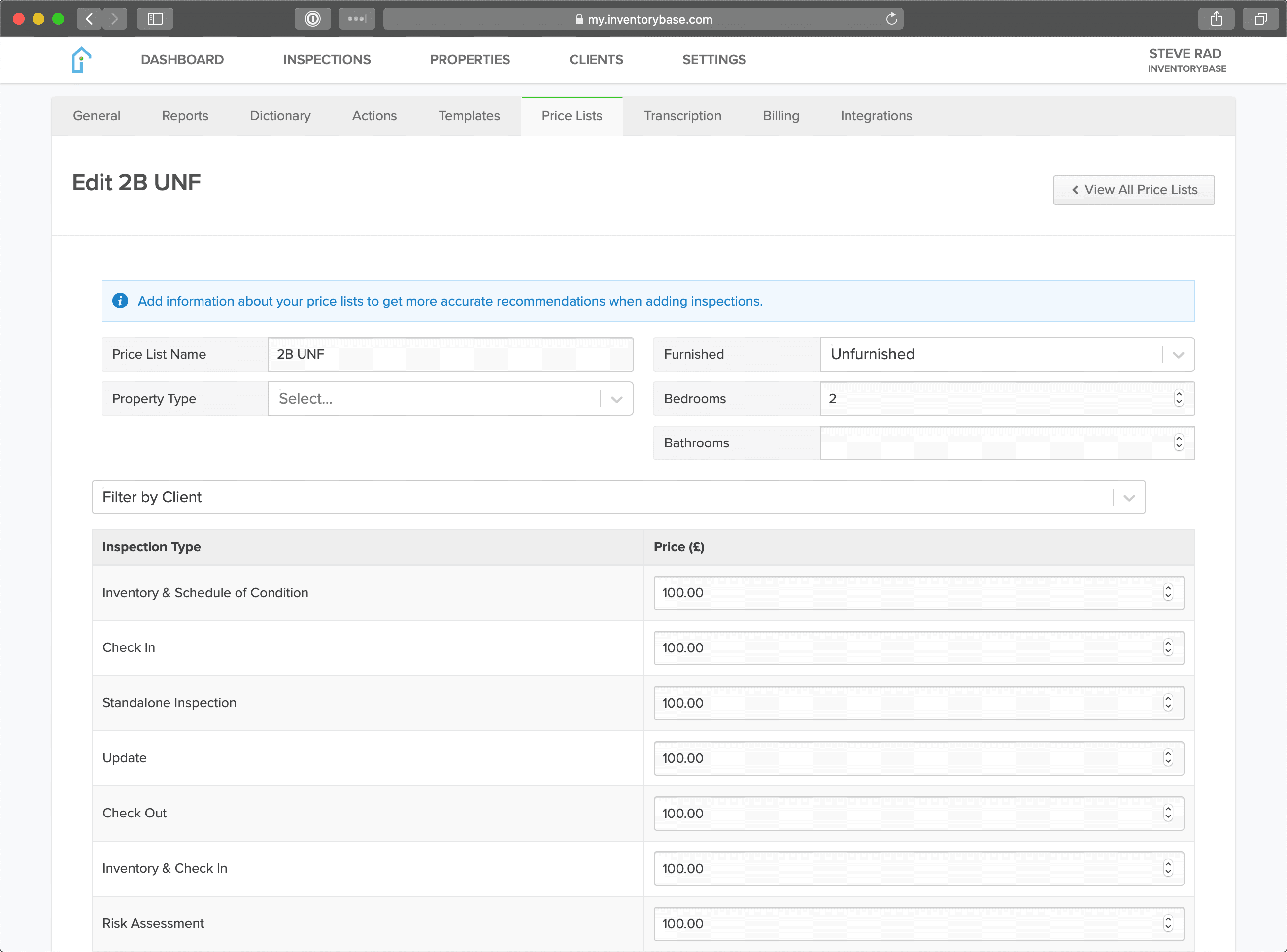 Secure Online Payments
Generate invoices with simple online payment links for clients to pay you securely online or pass on to landlords/vendors. Accept PCI-Compliant SCA-enabled debit or credit card payments directly to your bank account.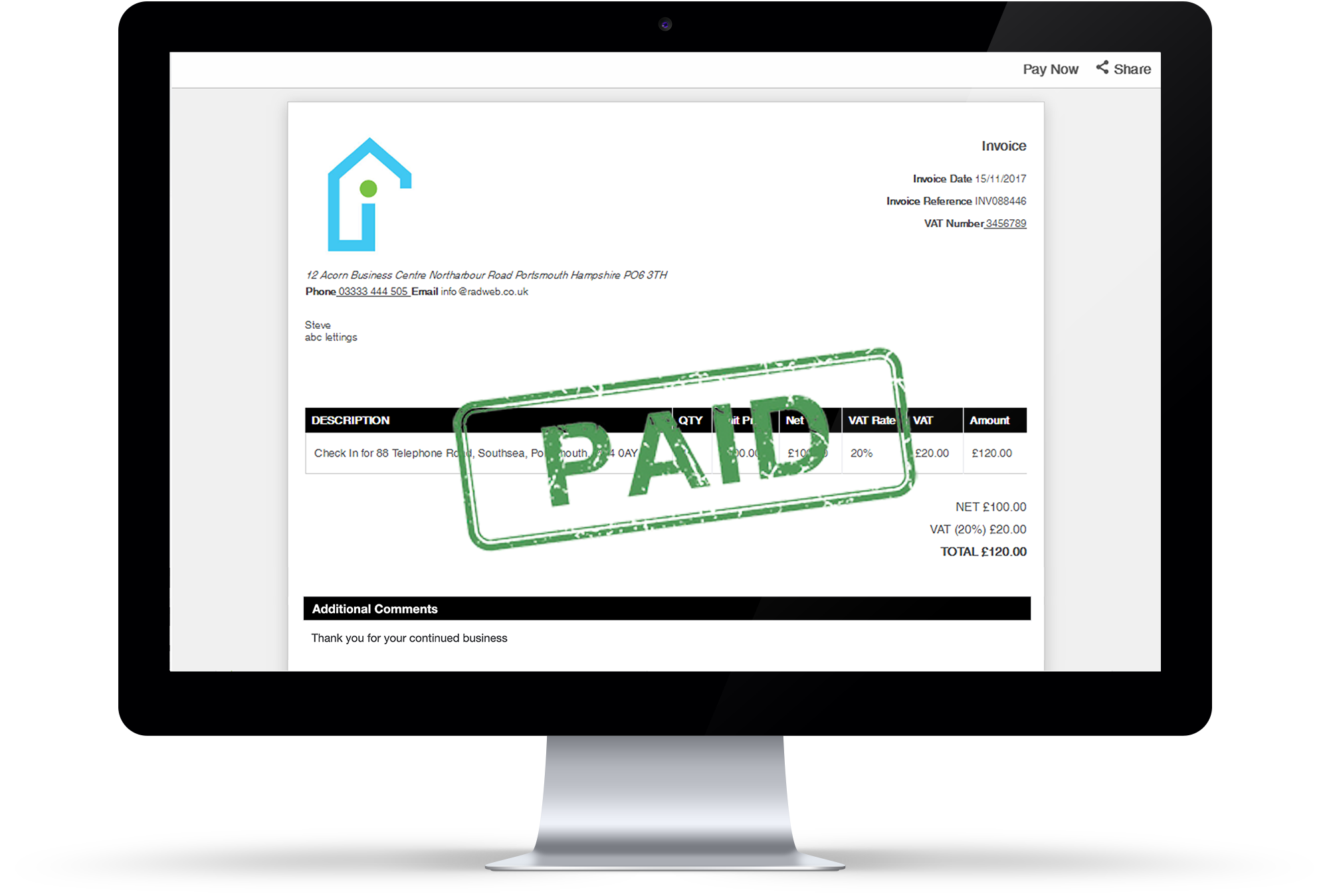 Customisable Reports
Personalise your reports with your own logo and contact information. Choose from a variety of options to customise all aspects of each type of property report you produce, including size and location of photos, notes and disclaimers, embedded video, action summaries and more.
And if that isn't enough, go the extra mile and have us design your reports to your exact specifications.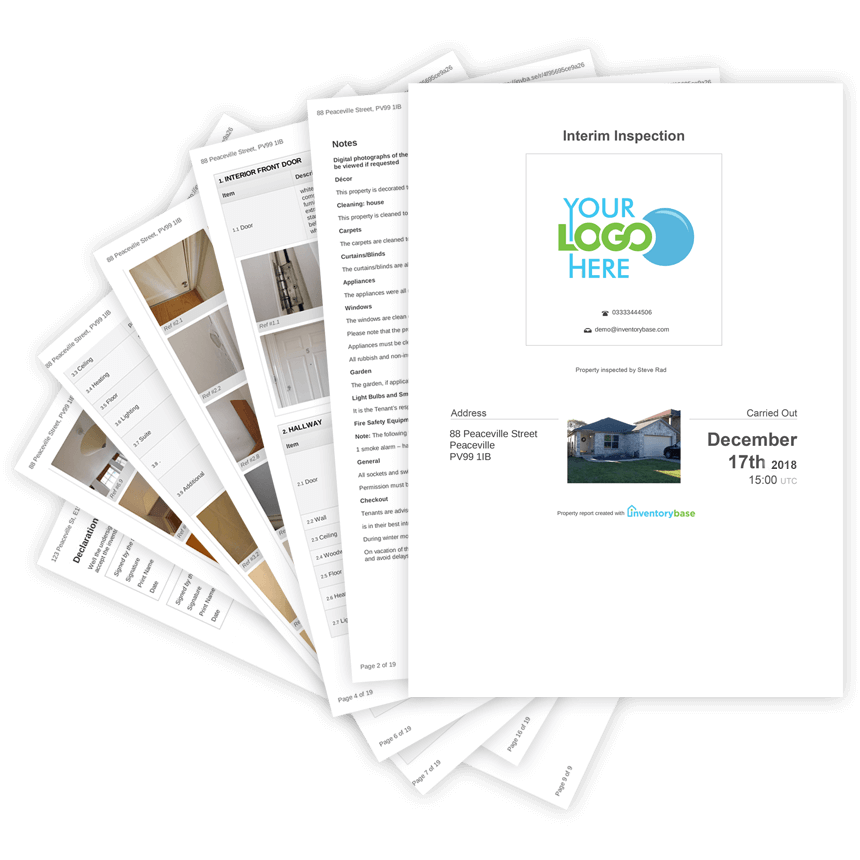 Take a 14 Day Free Trial
No credit card required. Signed up and logged in inside 30 seconds.
Going Enterprise?
InventoryBase comes with additional power tools on the Enterprise plan, including custom designed reports with your company branding. The following are some of the advanced features included with Enterprise:
Bespoke Reports & Templates
Your reports designed to match your exact specifications, with bespoke layouts and advanced features unique to your business. Why not? Starting from £25 per month or included on the Enterprise plan, make your reports stand out from the crowd.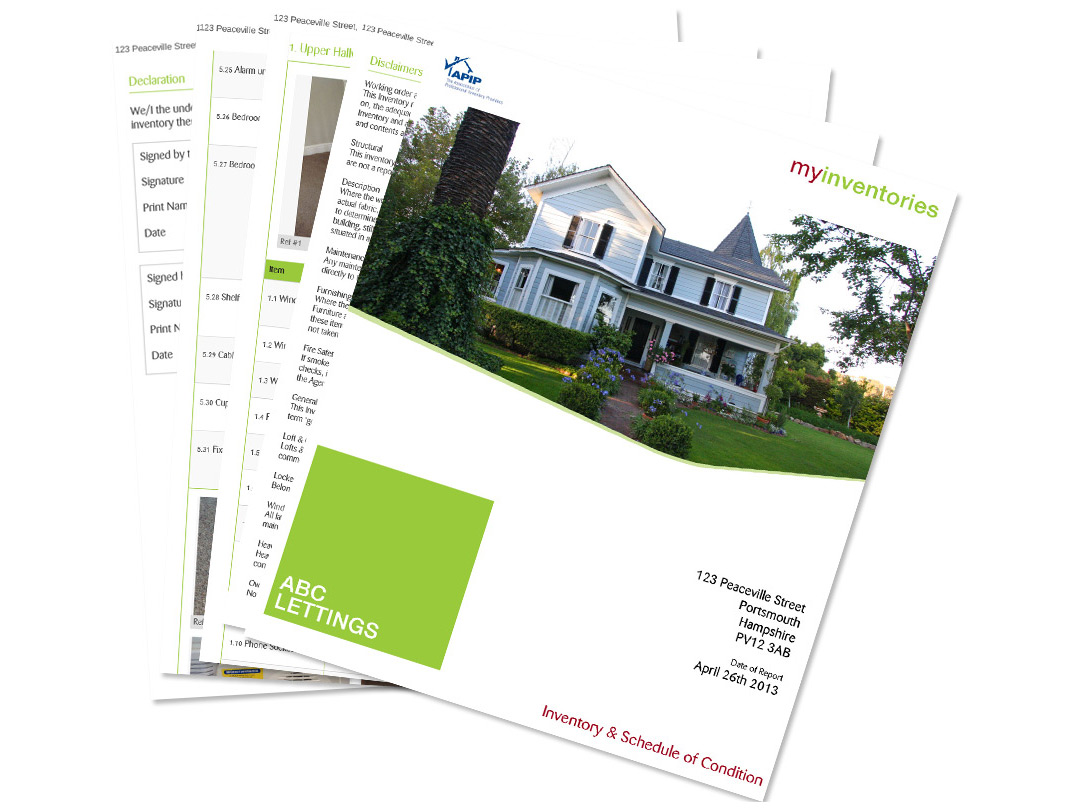 Advanced Team Permissions
Create custom teams and assign staff or contractors to them to filter what they can see or be notified about within InventoryBase. Setup regional offices, departments that deal with specific inspections or managers that deal with specific clients.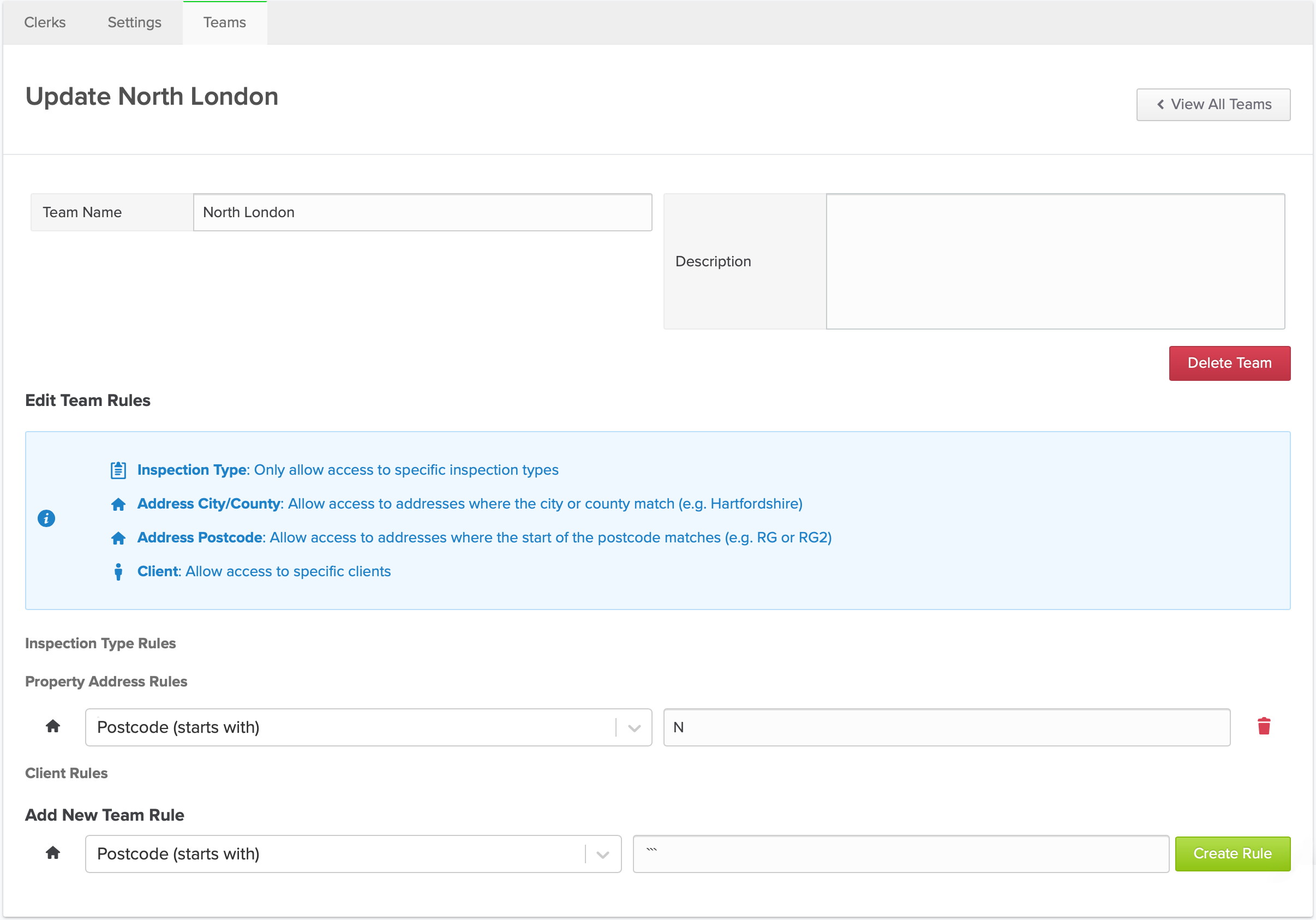 Staff Availability & Holidays
Set available working hours, geographic radius and holiday periods on team members. Allow staff to book in holidays and personal appointments themselves for manager review. InventoryBase stores who's available, when, and where.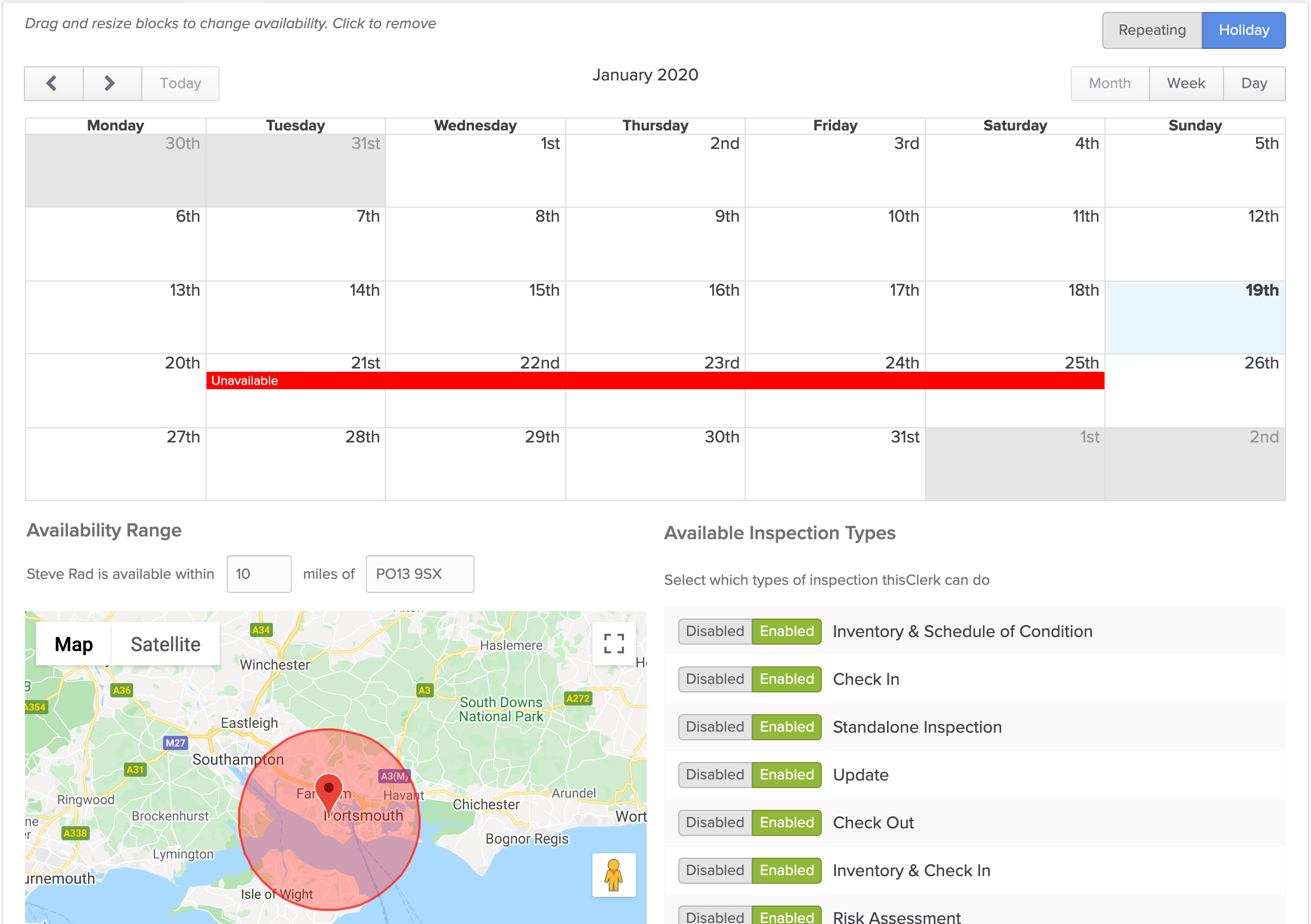 Advanced Scheduling
InventoryBase's Enterprise Scheduler provides algorithms to determine the best person for the job, by their availability and proximity to their last known location when scheduling new visits. View team diaries at a glance so you know how to effectively plan work throughout the day.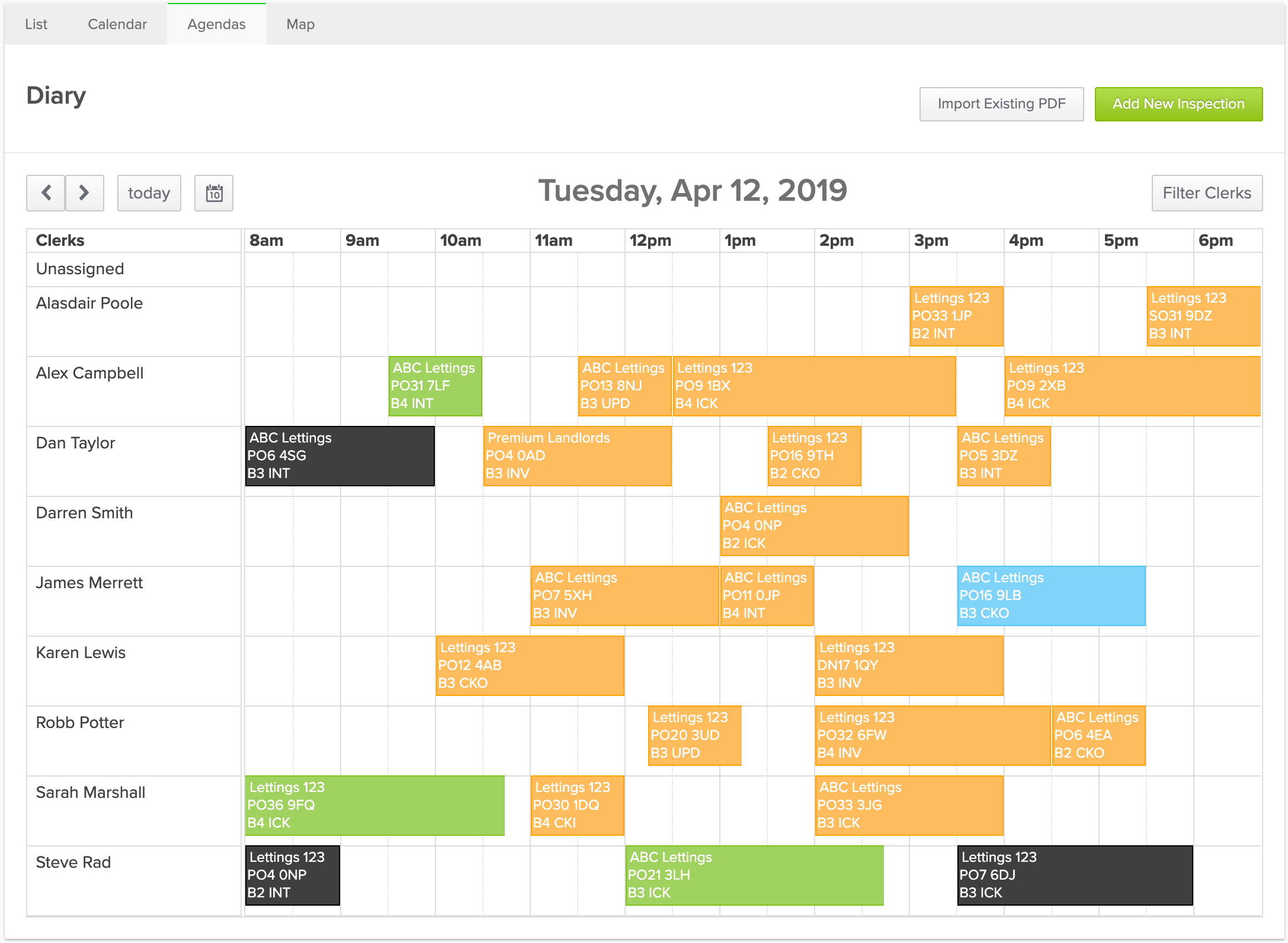 Advanced Pricelists
Override default pricing on a client by client basis. Automatically calculate contractor payments from pre-set margins, and enable client self-billing for marking up payments. InventoryBase provides powerful billing tools that are self-aware depending on the type of report, property size and furnishing levels.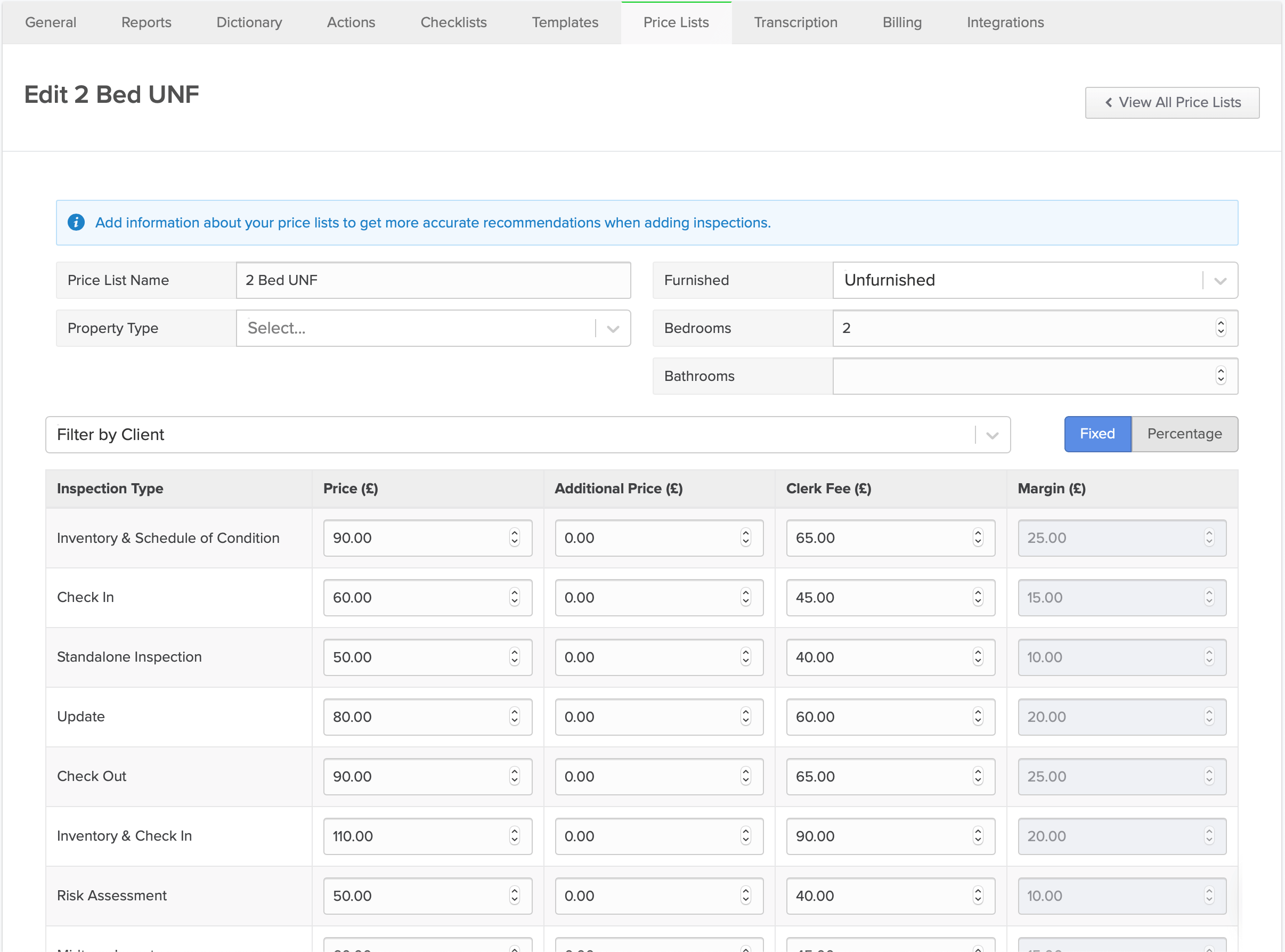 Interested in White Label?
Re-skin InventoryBase with your company logo and branding, hosted under your domain URL with alerts sent from your own email address.