On Friday 14th October over 1,200 suppliers, agents and industry professionals took part in the 19th annual ESTAS ceremony celebrating the winners of the prestigious ESTAS Customer Service Awards 2022, sponsored by Coadjute.
From a record total of 200,000 review ratings submitted by property professionals across the sectors, The ESTAS determin the best suppliers in the industry based purely on the feedback of agents, conveyancers and brokers who are asked a series of questions about the service they have received, so competition was extremely tough and the judging rigorous.
Announced by property industry expert Phil Spencer of Move IQ James Taylor and Sián Hemming-Metcalfe were applauded to the stage to accept the award on behalf of Inventory Base.
"We are beyond ecstatic to be recognised for outstanding customer service and win the award for Best In Sector – Inventory Services 2022", said Sián, Operations Director, Inventory Base.
To be among a very elite list of 28 supplier firms who made the shortlist was a real honour and I am so proud of all the team at Inventory Base who work hard, each and every day to deliver and maintain our high standards of service.
I am equally humbled and so grateful for the support and reviews given by our amazing customer base and who are the focus of our energy as we seek to continually improve and develop products and features to help them to deliver their exceptional services."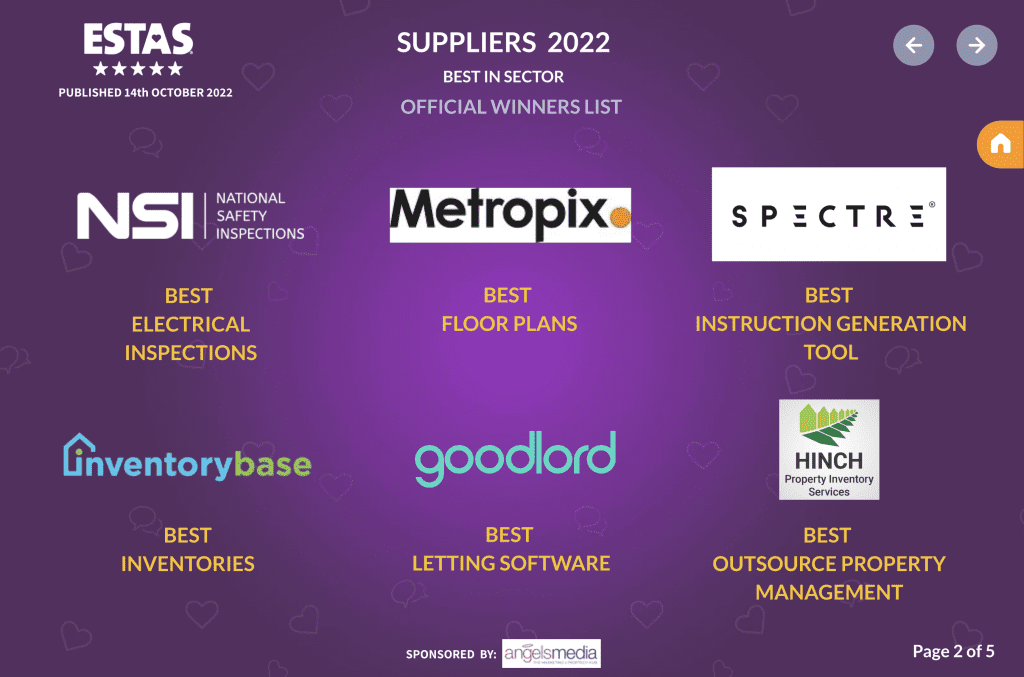 Phil Spencer, who has hosted The ESTAS every year since their inception in 2003 said, "There's never been a more appropriate time to highlight the role suppliers play in the industry. The best suppliers are instrumental in helping provide excellent service, they are an extension of the customer experience so the service they deliver is crucial, it's therefore only right that The ESTAS puts the spotlight on their efforts."
Simon Brown Founder of The ESTAS said, "Just like every single agent, conveyancer or mortgage broker using the ESTAS review platform industry suppliers were rated by their customers so these awards are a real test of how well these firms deliver their services. They should all be proud of their status as an 'ESTAS Supplier of the Year'."
Dan Salmons CEO at headline partner Coadjute said "On behalf of the Coadjute team, warm congratulations to all the winners this year at The ESTAS. As headline partner Coadjute was delighted to see so many outstanding achievements recognised across the industry from everyone involved. It has been a real pleasure to support The ESTAS this year and we look forward to enabling the property industry to 'work better together' in the coming year."
And finally, from all the team at Inventory Base; our thanks to all the sponsors and warmest congratulations to all the nominees and winners!
To find out more about Inventory Base, book a demo or contact us and learn how we can streamline your reporting and operational processes.