With the Coronavirus now classified as a pandemic worldwide, we provide advice, guidance and best practice for those working within the property industry to work safely.
Clearly this is a worrying time for both the UK and worldwide populations especially now that coronavirus has now been declared a worldwide pandemic.
Everyone's health is paramount so in order to help alleviate fears and ensure that facts are known and procedures followed the information in this advice is directly derived from both the Government and NHS Direct to help you minimise risk whilst out and about during your working day.
Background
A coronavirus is a type of virus. As a group, coronaviruses are common across the world. Typical symptoms of coronavirus include fever and a cough that may progress to severe pneumonia causing shortness of breath and breathing difficulties.
Generally, coronavirus can cause more severe symptoms in people with weakened immune systems, older people, and those with long-term conditions like diabetes, cancer and chronic lung disease.
Novel coronavirus (COVID-19) is a new strain of coronavirus first identified in Wuhan City, China.
Based on the World Health Organization's declaration that this is a public health emergency of international concern, now categorised as a pandemic –
Symptoms of coronavirus
The symptoms of coronavirus are:
a cough
a high temperature
shortness of breath
But these symptoms do not necessarily mean you have the illness. The symptoms are similar to other illnesses that are much more common, such as cold and flu.
How coronavirus is spread
Because it's a new illness, we do not know exactly how coronavirus spreads from person to person.
Similar viruses are spread in cough droplets however it is very unlikely it can be spread through things like packages or food.
We are advised that the virus is transmitted via contact – i.e being picked up on hands from a surface, or via a cough – and then passed on by entering the mouth, nose or eyes.
How to avoid catching or spreading germs
There are things you can do to help stop viruses like coronavirus spreading: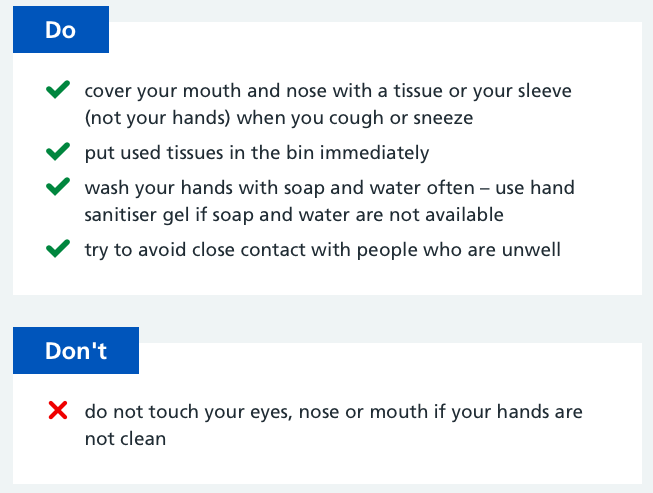 Minimise risk
Whilst you are out working in property make sure you have hand sanitiser with you and use it before entering and after leaving the property.
Avoid touching any surfaces in the property (where possible whilst not risking your safety) to minimise potential transference either to you or from you.
Wear disposable gloves but don't leave them in the property; dispose them safely.
When collecting and returning keys again use hand sanitizer and where possible wash your hands as soon as you can.
Current advice is to wash for 20 seconds or as long as it takes to sing 'Happy Birthday' in your head twice and wash your hands from the wrist downwards to ensure that they are clean.
Working inside properties and interacting with residents
Property visits are a particular area of concern to both clerks and tenants as the close proximity of both parties whilst carrying out the report is inevitable.
Current Government and NHS advice is that you only need to stay away from public places (self-isolate) if you have a continuous cough or fever, or if advised to by the NHS 111 online coronavirus service or a medical professional (correct at time of publishing – 13th March 2020)
So what should you do when conducting a report?
We feel that a sensible approach to the situation should be to politely ask, when booking or reconfirming the appointment with the resident/key-holder, if they have travelled to or recently returned from somewhere with the higher risk of coronavirus, if they have known contact with someone with the virus or if they present with any symptoms.
These places currently are:
Cambodia
China
Hong Kong
Iran
Italy
Japan
Laos
Macau
Malaysia
Myanmar (Burma)
Singapore
South Korea
Taiwan
Tenerife – only the H10 Costa Adeje Palace Hotel
Thailand
Vietnam
NB: correct as of 13th March 2020
Explain to the tenant/key-holder that you wish to respect their privacy, but have a duty of care to both them, yourself and your clerks to check (if booking on their behalf).
You may also deem it sensible to ask if anyone in the household is unwell and then make a decision as to whether to rearrange the appointment.
Again; you should respect the privacy of the tenant so it is essential to take a measured approach and be aware that they are in no way obliged to provide you with their medical history.
Remember; the tenant is likely to be just as concerned as you are about the current crisis. If you are feeling unwell, consider whether it is advisable to attend the appointment. What are the risks involved in passing on your cold or illness? This is the tenants home and they will want to ensure they are not exposed unnecessarily.
Whilst at the property; we would advise that you use hand sanitiser before you enter to reassure the tenant that you are taking their well-being seriously. You could wear gloves and N95 Mask if you prefer, but dispose of them carefully and do not leave them at the property. Do not put these into general waste for 72 hours.
Ask that the tenant leads the viewing by opening doors to rooms and areas. Remember that an interim property visit is a non-invasive report so you should already be respecting the tenants' items and personal belongings. A full inventory, check-in or check-out will differ.
Touch as little surfaces, handles and places where viruses could transfer as possible.
After the conclusion of the visit again use hand sanitiser before returning to your vehicle, home or office to minimise any transference. Dispose of any personal protection equipment (PPE) into a plastic bag, tie this up and dispose of safely.
Plan ahead
If you are working with clerks you should be planning for the potential of your employed or self-employed clerks being off sick, self-isolating and or even refusing to come to work due to perceived risk. You can check sick pay regulations and advice here: Employment Support Allowance
Keep all your staff and contractors informed and ensure that they are aware of all the available advice and constantly revisit that advice yourself as to changes in guidance or risk level.
Talk to your clients about their own protocols especially if conducting reports where tenants are usually present and agree on how you will jointly manage your reporting needs.
InventoryBase Workstreams enables clerks to seek additional work should they require it and are well/presenting no symptoms – and in turn, offers a service to agents/inventory providers seeking clerks to carry out reports should their staff be unavailable, unwell or have symptoms.
Outsource or bid on property reports via InventoryBase Workstreams.
Government guidance for employees, employers and businesses
The Chancellor has set out a package of temporary, timely and targeted measures to support public services, people and businesses through this period of disruption caused by COVID-19.
This includes a package of measures to support businesses including:
a statutory sick pay relief package for SMEs
a Business Rate Relief for small businesses and pubs
small business grant funding of £3,000 for all business in receipt of Small Business Rates Relief (SBRR) and Rural Rates Relief
the Coronavirus Business Interruption Loan Scheme to support long-term viable businesses who may need to respond to cash-flow pressures by seeking additional finance
the HMRC Time To Pay Scheme
For more information: Covid-19 Guidance for employers
Make measured & sensible decisions
A sensible and measured approach to your activities as an inventory clerk is the professional approach to take during this unprecedented crisis and InventoryBase and InventoryBase Academy will continue to monitor and respond to the situation here in the UK and offer our support to all inventory professionals.
If you are at all unsure about your health then contact NHS 111 direct and do not attend your doctors or A&E before calling them if you have any symptoms or concerns.
LATEST ADVICE AS OF 13TH MARCH
Self Isolate
Stay at home for 7 days if you have either:
a high temperature
a new, continuous cough
Use the NHS 111 online coronavirus service if:
you feel you cannot cope with your symptoms at home
your condition gets worse
your symptoms do not get better after 7 days
In Scotland call your GP or NHS 24 on 111 out of hours.
In Wales call 111 (if available in your area) or 0845 46 47.
In Northern Ireland call 111.
If you are worried or concerned about workloads – InventoryBase Workstreams are assisting letting agents and inventory providers across the country by being able to provide clerks to carry out reports within local areas. Should you or a staff member present symptoms, register with InventoryBase Workstreams to find additional clerks in your area who aren't presenting symptoms and are well to continue working.
If you are well and are able to provide assistance, or should you require help in conducting reports/visits – register for InventoryBase Workstreams here.